Welcome to the Pocket Ants Wiki!
Founded 12 August 2020, with 7 active users and 273 content pages.
Statistics
---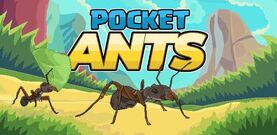 We are a collaborative community website about Pocket Ants: Colony Simulator, that anyone, including you, can read, build, and expand. Wikis like this one depend on readers getting involved and adding content.
See the Wiki Rules and Style Guide first before editing, and see "How to Help" for more info.
Your contribution will be appreciated!
About
Pocket Ants is a game about ants, released in early access by Ariel Games on 27 June 2020. You are born as an ant. Trapped in a small island surrounded by a river with nothing but the Queen Ant, you have to survive and grow your ant empire. Gather resources, upgrade your nest, and breed more ants! Battle other players to get more resources! But at the same time, beware of the dangers above the nest! Creatures and red ants prowl the plains, bees and termites populate the trees, and fire ants jealously guard their aphid stores and nest, attacking if you come too close. Build an empire, survive, and thrive!


News and Updates
29-July-2022
The Creature Event: Festive Tiger Beetle has started!
23-July-2022
The Creature Event: Festive Tiger Beetle is announced on Discord.
17-June-2022
The 2nd Anniversary Event has started! The new creature for this event is Emperor Scorpion.
9-June-2022
The 2nd Anniversary Event is announced on Discord.
20-May-2022
The Creature Event: Monarch Butterfly has started!
Featured Articles
Did You Know...
… that bosses at co-op mode gain more health as there are more players in the lobby?
… that you can get a golden creature from a normal summon with golden, platinum or diamond pheromones?
… that, according to Ariel Games, "the [red ant] queen is too fat to move or attack"?
… that the Venus flytrap used to show a swallowing animation when eating creatures?
… that real life Tiger Beetles can run up to 5 mph? That's 120 times its body length every second!
… that Ariel Games, the creator and developer of Pocket Ants, is from Spain?
Explore the wiki!
Events
There are currently no events. Check Discord for the next event announcement.
Pocket Ants Community
---
Get Involved
Meet the Staff
Pocket Ants
on Youtube
PA Wiki in
Other Languages
---

Join the PA Discord Server
We have a fun and active community with contests and helpful advice. Find a clan to join or get a question answered.

If you want to contribute to the wiki even more, join the PA Wiki Team in the Pocket Ants Discord.